We have heard it time and time again: Finnish education rocks.
They all say it: TheGuardian, CNN, Michael Moore, World Economic Forum, you name it…While Finnish education refers to the primary and K12 education, Finland is known as a teachers' training nation. Most of teachers have a master's degree. It is a well-respected profession and selection is highly competitive. Finnish education today is seen both as a brand and as a business niche and as anywhere else, there is a hunger for solving education challenges. This is seen in a growing number of EdTech startups, educational tourism firms and education summits. Their common goal is to bring experts and practitioners together to fill the demand and curiosity in education and let it ripple. I joined summits and futuristic EdTech events that took place in Helsinki during 2017 and followed the trends.
Here are the 5 education news that hit headlines in 2017 and got media coverage inland and abroad.
This is also my modest attempt to #bragforFinland 🙂 Enjoy!
A note, before you read, below is a lot of recorded material, which allows you to browse virtually through held seminars and stay informed.
Each of the events touched upon recurring five themes:  a global concern on the future of work, rising inequality, influence of AI, social/emotional learning and teaching 21st century skills. I found these events well-organized with the latest news from thought leaders, funders and practitioners.
News #1: Hundred
Hundred.org's first Education summit took place in October 2017. Initiated by Saku Tuominen and his strong team, this non-profit has released 100 Finnish innovations, 100 global innovations and 100 visions in education. The noble project, in honour of Finland's 100th anniversary, set out to find, validate and choose the best 100 teaching innovations out of 1000 applications from 130+ countries. As a result, 100 chosen educators and school reps came from over 30 countries to meet and share their practices. I was lucky to be present and to facilitate a workshop during presentations of the award-winning approaches. It was a unique chance to hear what is missing today and how to spread innovations in order to close education gaps. Their work is massive, beyond inspiring and it continues. Do you know any innovation in your area of the world? Or maybe you are passionate about education? Then become Hundred Innovations ambassador!
Check out the Hundred Summit recorded archive available live, for free!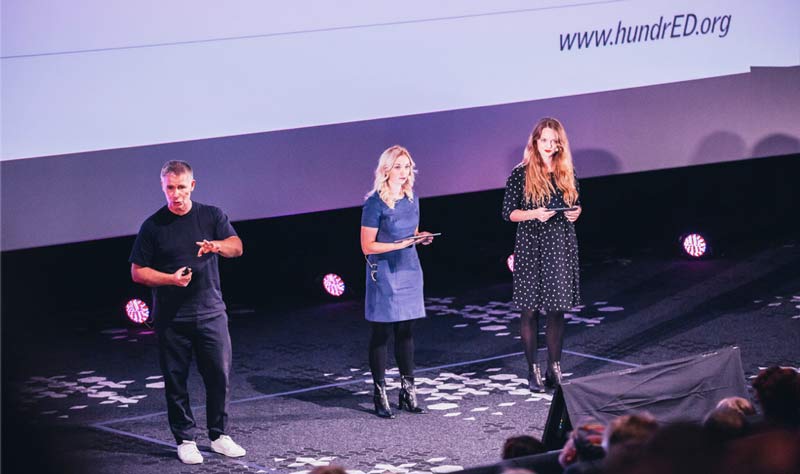 Saku Tuominen, Jessica Spencer-Keyse and Kate Robinson at the Hundred Summit
News #2: Finnish EdTech community goes Slush
xEdu, the Nordic's no.1 Education business accelerator in Finland has brought a 1000-people crowd  education fest "XcitED" during the Slush tech event (SLUSH 2017 has seen 20,000 attendees, including 2,600 startups, 1,500 investors and 600 journalists from over 130 countries). The number of EdTech startups worldwide exploded from just 80 in 2008 to over 3500 in 2017, which were funded by official capital, according to Michael Staton from the US-Based Learn Capital VC. 60% of these startups in their early stage will likely fail and not scale. The advice from venture capitalists: if you want grow a startup to be come a giant business with venture capital, the time to consider is 5-7 years. Another sane advice came from Anna Grotberg, a thought leader from the European EdTech scene: "to be able to succeed and scale EdTech companies should help save schools money, have products with a genuine sense of efficacy and solve a real challenge in education." This is particularly important when I think of countries with low internet penetration.
In an informal setting, I could speak face-to-face to the teams behind some of the Finnish award-winning EdTech solutions such as Mightifier, which helps master emotional skills to reduce bullying and anxiety. Seppo.io, another EdTech champion, turns learning into games and Lyfta, which promotes cross-cultural understanding through immersive storytelling via ipads, laptops, VR & AR technology. Most of them are teachers by profession and they cater to both students' and teachers' needs.
And there was also Elias (NAO robot) enhanced by Utelias, which is used to teach languages in schools. In this respect teachers' role was also up for discussion: from a distributor of knowledge to a coach. In a context, where technology takes over with a rapid speed and redefines how we obtain knowledge from now on is a topic in itself and for years to come. Oh, I forgot to ask how much Elias's English lessons cost!
Besides EdTechs, an 8 year-old Shailaja (google her #toothlessCEO) from Malaysian 1st school of enterpreneurship pitched her tea-business in a less than 10-minutes. Sharp!
Before the end of the event, 3DBear  (enables learning through 3d technologies) announced that they became the 1st Finnish ‪#EdTech company to receive over one million euros with US VC-backed financing. Bravo!
All-in-all a mind-blowing unison of ideation, networking, quality discussions on ethics of AI and future of technology in learning skills to fit the 21st century. XcitED promised to be back in 2018!
Watch #XCited full event available live for free!
News #3: Peter Vesterbacka
Peter Vesterbacka is the Finnish tech and education ambassador, known as the "Mighty Eagle". Time Magazine named Peter one of the 100 most influential people on the planet already in 2011 during his work at Rovio (Angry birds).
Some of the startups that he supports are Edunation which aims to bring  150,000 international students to study in Finland and FunAcademy (Finnish-famed early childhood education), which is on a kindergarten expansion mission across Asia. He is present at all education events, hackathons and his enthusiasm goes through the roof. His engagements are exhaustive and so are his media appearances – the best advice is to follow him on twitter, you will understand why.
News #4: Vocational education to the world
Vocational education #AMISREFORMI has been going through major changes in 2017 and 2018 is the year of new implementation. Downsizing study programs from 351 professions to 164, streamlining students' needs and teachers' competencies. To promote vocational education as a choice for students, there is an event "Taitaja" (see my work project with Taitaja) a larger-than-life professional skills competition showcasing all sorts of professions. Finnish vocational education is also big export, for example, a new link with Kazakhstan. Omnia Education Partnerships Ltd. (OEP) is also working on international cooperations to promote life-long learning.
Even though vocational skills are increasingly in demand globally, they are less valued and institutions are facing a high number of drop-outs. Students, erroneously, see a university degree as the only formula for success. If everyone studies the same, it only increases job competition, right? Situation is so serious that Economist has written about it.
Read more on vocational education:
News #5: DARE TO LEARN –a brand new 2-day learning fiesta for educators
Another gift to the world in honor of Finland's 100th anniversary, was teachers' own learning fiesta. For the very first time Dare to Learn opened doors to 3000 teachers and put life-long learning into focus in a format of workshops, seminars and keynotes. It has been sold out and I sadly missed it. The best part is that it is founded by a "bunch of young world changers in the national student union for uni students (SYL)". Yes, you read it, student lead innovation in education events. Check out some crazy slides from DARE-TO-LEARN on this blog
Secure your 2-day tickets in 2018 on the Dare to Learn website!
And now what?
I figured out that despite the crazy speed of change and technology, the success of innovations can be measured in collaborations between teachers and students, adequate funding and education reforms. It also depends on the level of trust towards teachers' autonomy and curiosity to utilise new tools in teaching.
Trust and recognition of teachers' role are key factors. Undoubtedly, during face-to-face events and partnerships like these can we all make sense of our passion for innovation, education and strive to personal and educational renewal.
With my respect for teachers, my ambition is to work with promoting Finnish/Nordic know-how in education and help build partnerships to universities and education labs worldwide.
Interested to hear more about Finnish EdTech and collaborations with Finnish education players? Drop me a line! I would love to hear from you.