This article was orginally published on the Hanken website.
During the last three weeks in an ongoing COVID pandemic, millions of people across the US and worldwide have taken to the streets and raised their voices in response to the killing of George Floyd by a policeman. Solidarity protests also took place in Helsinki, Tampere, and Turku voicing issues of inequality, discrimination, and unequal justice.
Job discrimination and inequality in society and job market are also evident in Finland. According to the EU survey two years ago, Finland was the most racist country in the European Union. This year's Finnish Survey finds that as much as 65% of respondents reported having been discriminated against on the basis of another personal characteristic as well such as foreignness, language, religion, or belief, and nationality. Helsinki city observed a spike in intercultural tensions during the Covid-19 epidemic. It was noticed that the exceptional situation due to the virus made it more difficult for immigrants who have already arrived, to integrate and build good ethnic relations with Finns.
Pia Polsa, Associate Professor at Hanken, highlights a survey from 2019 that provides similar results: "Participants of Hanken SSE's Business LEAD programme for refugees and immigrants launched in 2016 have experienced discrimination both in working life and generally. All the participants are highly educated, have a lot of international working experience, and are flexible personalities given their multicultural background. Yet, it is hard for them to get employed, or even job interviews. Also other sources evidence that people who have generation after generation lived in Finland, like the Roma minority, are as well discriminated to the extent that by changing their names to more typical Finnish ones they get better treatment in recruitment situations."
Equality work in the academia
When it comes to racism and inequality, there is work to do in all higher education institutions. Ministry of Education and Culture recently published a report which analyses gender equality and diversity plans of Finnish universities and universities of applied sciences. The report is written by Inkeri Tanhua, who is a gender equality and diversity consultant, and a Ph.D. student at Hanken.
The report shows what kinds of topics and measures Finnish universities have currently included in their gender equality and diversity plans. According to the report, there is a lot of room for improvement. For instance, most of the universities do not currently identify what kinds of problems related to the racism they are facing or state how they could promote anti-racism. According to Tanhua, "universities have their action plans, which is a great start. Currently, we have a momentum to revisit the plans and improve measures. I hope this report will serve as a healthy call for action for education institutions to promote gender equality and diversity."
Hanken International Talent™ – building meaningful connections that matter
In this time, COVID and protests towards racism and social inequality offer everyone demand a decisive response to rethink how we lead and what we do about it. The World Economic Forum has launched Rethink initiative to have a new set of dimensions to build a new social contract that honors the dignity of every human being. UN Global Compact has just celebrated 20 years anniversary and pushing its principles to strengthen the SDG agenda which Hanken has committed to.
Launched in 2017, Hanken International Talent™ (HIT) is a talent management programme which helps companies tap into the pool of quality diverse talent with background in finance and economics, accounting and business law, management, and marketing. Companies such as Fazer, KPMG, Wärtsilä, and Lindström Group are some of the companies that have already secured their full-time employees from Hanken HIT™ talent pool.
It is a fact that international students face barriers to the job market and a third of them leaves after graduation. International student survey has shown that there is a need for a program like HIT to help navigate in Finnish society and job market.
Despite that the number of returning companies has increased and Hanken HIT™ is recognized as one of the best practices for international talent recruitment and retention among higher education institutions, only 15 out of 29 students who applied in 2019 found a company mentor.
There are still many possibilities for companies to engage with the international students in Hanken HIT™. We are in a dire need for more support to build success stories, to help others see and recognize the value that international students can offer to the companies and the society.
Why Hanken HIT™ is a good choice?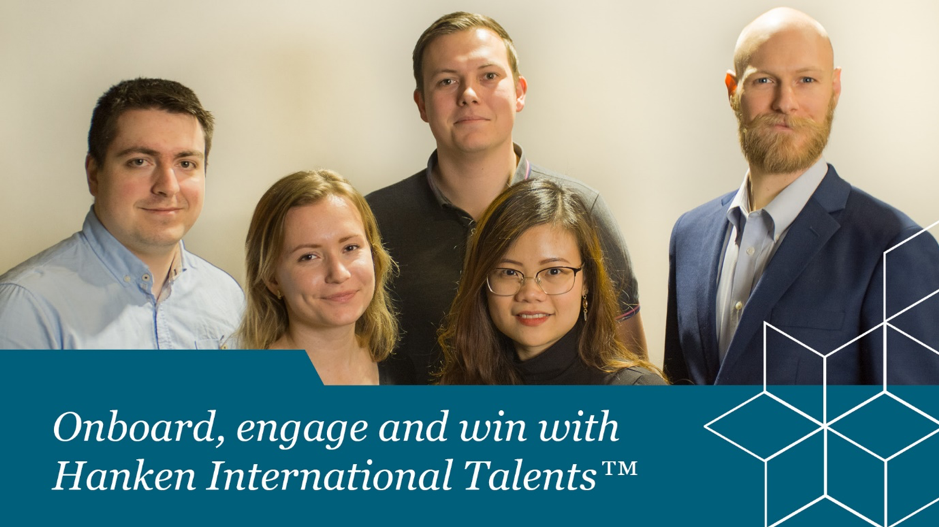 The programme is free to join for companies and international students, and it offers a variety of ways to cooperate which are easy-to-engage and easy to commit, also in times of the covid-19 pandemic.Hanken HIT™ talent pool has already offered a window of opportunity for companies to pivot their businesses. One company that has benefited from Hanken HIT™ cooperation is MeetingPackage, a Finnish Saas technology company established in 2014, with offices in 8 countries in Europe and the US.
Alvaro Perez Pintado from Spain, majoring in marketing, tells that through Hanken HIT™ he got an internship in MeetingPackage to deploy marketing processes for generating inbound leads and help grow the company's market. "I am also able to solidify the company's position outside of the Nordics. Hanken HIT™ helped me to put my specific experience in practice and to better understand and integrate myself in the Finnish job market", he tells.
Joonas Ahola, CEO of MeetingPackage, says that due to Covid-19 they had to rethink their business model and how their customer acquisition is done. "It is needless to say that selling hotel software through traditional sales efforts is hard during a pandemic while the hotels are closed. We had to find ways to serve our customers and keep the business intact. Cooperation with Hanken HIT enabled us to allocate a resource for building a full self-service model of our solution and thanks to a good match with Alvaro, we achieved this. Alvaro did not come into the company during an easy period and was thrown to the "deep end of the pool". Luckily Alvaro was super capable of managing the pressure, new processes as well as executing the work which finally got launched to a global hotel audience.
Ahola would recommend Hanken HIT programme to fellow companies big or small to engage with experienced students, solve company challenges and get further ahead in business. The benefit of university-company collaboration such a Hanken HIT is that companies get a risk-free talent cooperation and can shape a company's inclusive culture as well as employer brand with one professional at a time.
We are in this together – working towards Finland's global future
With passionate people behind the project, Nikoline Stenman-Möller, Henna Konsti, Camilla Wardi and Minna Martikainen, I have been working on showcasing success stories and importance of role models in bridge building. I faced similar challenges as other international students, as an international student from Uzbekistan in Denmark.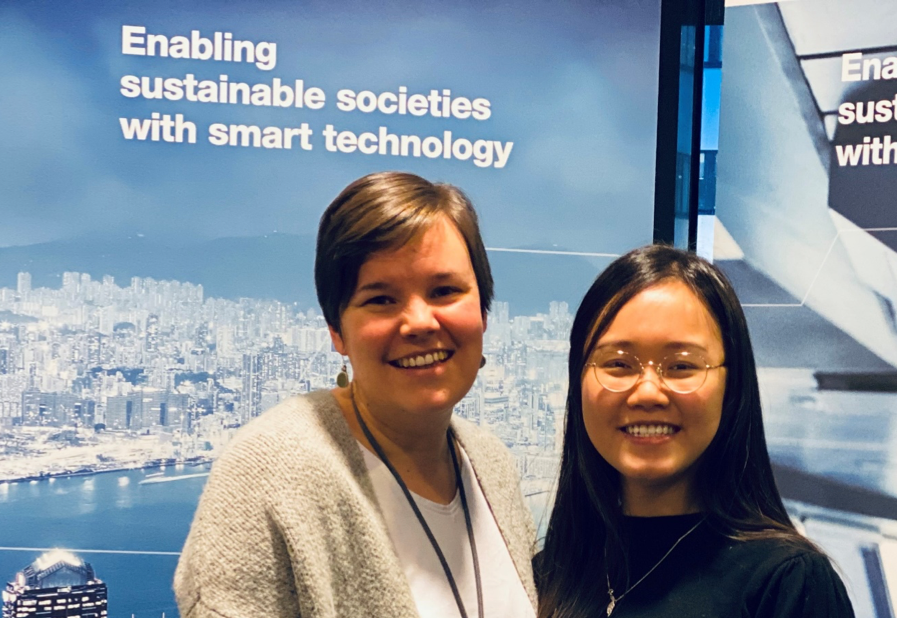 While studying and working in shipping companies, I held multiple advocacy roles to push for mentoring which I also benefited from and the equal access to the job market in the Nordics and in the EU. When I moved to Finland, I have started a movement and initiated pro-bono events with help of hundreds of volunteers' reaching 3.000 students and teachers in secondary schools and vocational colleges. These were events, workshops and art projects with focus on future professions, identity, building trust, inspiring potential and just for everyone: how to feel valuable and worthy. From my experience, regardless your social economic background the minute one has a different ethnic background, or lacks local networks, getting ahead in life and in a job market remains a big challenge.
Why work with Hanken HIT?
Because such bridge-building platform is essential to showcase success stories of companies which benefit and grow during collaboration with students. This kind of cooperation is empowering for both sides, because everyone can contribute to shaping future global and inclusive Finland. Everyone should have the opportunity to experience well-being, equality and work-life balance that Finland is known for internationally.
Take a stand!
The covid pandemic has brought insecurity with it and shed light on tensions and inequalities world over, including Finland. But it has also shown how we are as strong as our communities, and these communities should be open for others to be part of. At Hanken, there is a way to take a meaningful stand as a professional and as an organization to help one professional at a time and build a society, which gives space to everyone to find their potential. Everyone's efforts help foster inclusive company cultures and an inclusive society.
Join us. I welcome all professionals at all levels to be changemakers and HIT collaborators. When you bring hope, recognize potential and show international students, that they too can get a life worth living in Finland, you will make a lasting change and perhaps bring a new friend along with it.
Get involved, take a stand and make a difference!
We recruit company representatives and alumni for incoming students in the fall 2020. As a company mentor, you commit to five lunches during next half a year (online) and guide a student in career related questions. The Hanken HIT collaboration is combined but not limited to with a 2-3 months employer-student cooperation such as internship, summerjob, thesis cooperation, or project-related study agreed between you and a student. corporaterelations@hanken.fi
Kamilla Sultanova
Kamilla Sultanova is the project manager for the Hanken HIT program. She is an award-winning community organizer who was invited to attend Barack Obama townhall Europe summit in Berlin last year, to discuss the future of inclusive leadership and civic engagement.
Sources & Notes
Since 2019, Hanken has gotten funding from a larger inter-university and inter-city cooperation project "International talents accelerating growth" which helps universities and cities to build exposure of Helsinki region as an employer city brand and maximize exposure of international talents to their potential employers.
EU (2018) Being Black in the EU. Second European Union Minorities and Discrimination Survey. Luxembourg: Publications Office of the European Union.
Business LEAD program: https://www.hankensse.fi/programmes/integration-program-business-lead
Hanken Intl Talent: https://www.hanken.fi/en/cooperation-and-networks/career-services/hanken-international-talent-hit
Helsinki city web magazine Kvartti (2020) https://www.kvartti.fi/fi/blogit/koronavirus-ja-kansainvalinen-muuttoliike. 25.5.2020.
YLE news (2020) https://yle.fi/uutiset/osasto/news/ombudsman_racism_survey_sabotaged_by_online_forum/11392066. 9.6.2020.
Photo: Jori Grönroos